Collectible License
Lord Hugh | Nervous Tango GIF 500 BEP1155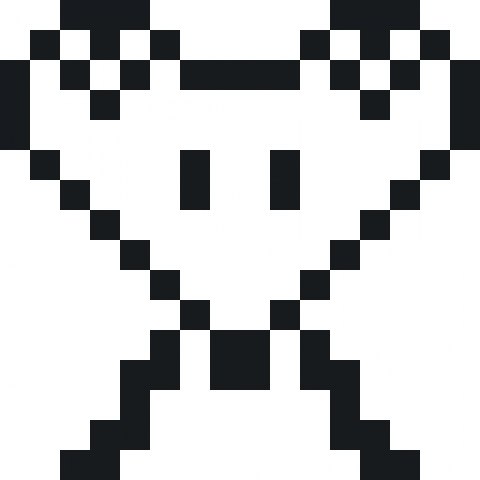 Mr. CAT
Story
At the banquet Lord Hugh tangoed with someone! He has never been so nervous before!

Everyone wants to be at Lord Hugh's banquet as he is the most eligible bachelor in the royal canine group!

Join the Ultimate NFT Club!
Get your free pass here:
https://www.oursong.com/vibe/pwnaglzr

Lord Hugh Lealaps | Duke of Blairenzia

Lord Hugh is Lady Elizabeth's dog, he inherited his dukeship after her passing. (Oh yes, it was such a scandal!) He is a good friend of Mr. Cat's and is probably the wealthiest canine in the world.

His favourite leisure activities includes chasing cricket players and watching other dogs "playing" with postmen. His ideal afternoon is to enjoy a shepherd's pie while being massaged.

The origin of this series of works was the summer of 2003, I was travelling with my family for two months in Europe. Drew figures like Mr. Cat on the notebooks I bought from museum gift shops.

It's with pleasure, I present Mr. Cat's friend in 8 bit form!

Timeline of this series

2003 Sketch
2013 Acrylic on Canvas Painting
2013 Painting and Giclée Prints
2021 8 bit NFT

按此連結領取通行證加入終極NFT社團
https://www.oursong.com/vibe/pwnaglzr
貓先生與朋友們的聊天室社團通行證:
https://www.oursong.com/vibe/yweomgqw

布萊爾公爵|緊張探戈

在晚宴上,布萊爾公爵跳著探戈,心中小鹿亂撞,到底是誰讓他這麼緊張?

每個人都想去布萊爾公爵的晚宴!畢竟他是皇家犬界最知名的黃金單身犬!

布萊爾公爵

布萊爾公爵是貓先生的好朋友、伊麗莎白女爵的狗,在她去世之後繼承了她的爵位(喔是的,當時造成轟動!),布萊爾公爵堪稱是世界上最有錢的狗。他最喜歡的的休閒活動是追逐打板球的人們,或是看其他的狗兒們跟郵差玩耍。午後最享受的是一面被按摩一面大快朵頤牧羊人派。

這個系列的作品始於2003年,我跟家人在歐洲長期旅行兩個月,在火車上我用在美術館買的筆記本不斷的畫像這樣的動物人像與各種肖像。

很開心在經過18年後,以八位元形式再創做。

以下是這個系列的里程碑

2003年 草圖
2013年 壓克力畫布畫作
2020年 畫作與藝術微噴
2021年 八位元NFT!
Tags
Created on 2021/12/12 08:31:39 UTC
License for owners
Collectible License
No Derivatives
Non-Commercial
Use
Attribution
Required
Contract Address
0xD41bDc346dfCC6A6acCC219eDC2055005F32B3A4
Token ID

15192

Chain

BNB Chain

Token Standard

BEP1155

Metadata URL